Postal Codes (ZIP codes) are required when you are sending or receiving the parcel across the locations. Importantly, required during online shopping these days. Here we have prepared a complete list of postal codes of Vietnam and briefed why are zip codes important and how to use them. Besides, because of immense confusion on how to enter a 5-digit postal code for Hanoi, Ho Chi Minh City, or other Provinces, Vietnam in Google My Business, eBay, and Amazon…., we have also covered that topic.
VIETNAM 63 PROVINCES, CITIES ZIP CODE (NEW 5-DIGIT) AND TELEPHONE NUMBER
FOR 10-DIGIT PHONE NUMBERS FOR VIETNAMESE;
Vietnam uses 10-digit mobile phone numbers, however, other forms of contact numbers are less than 11 digits — Landline numbers. So, while entering the 10-digit phone number for Vietnam in the payment process form, registered online form or store Shopify, simply enter your landline number with the area code like as; any landline number, use "024x.xxx.xxxx" which is the landline number for Hanoi City.
LIST OF POSTAL CODE FOR VIETNAM
Here's this is a complete of postal codes of Vietnam. However, if you have difficulty finding the postal code for your region, or district, use the shortcut Ctrl + F (or tap on the search function on the footer of the web) and enter your region to find the postal code for that place.
NOTE: SEARCH BY THE POSTAL CODE OF THE PROVINCE OR CITY:
Ex1: 110 Vo Van Kiet Street, Can Tho province => Find Postal code of Can Tho
Ex2: Village 1, My Gia Ward, Yen Binh Commune, Yen Bai Province => Find Postal code of Yen Bai
HO CHI MINH CITY POSTAL CODE (NEW 5-DIGIT)
Commonly used Postal Codes for Vietnam (Ho Chi Minh City)
Ex1: 57 Tran Hung Dao Street, Nguyen Cu Trinh Ward, District 1, Ho Chi Minh City – Postal Code 71000
THE LATEST POSTAL CODE/ZIP CODE IN HANOI DISTRICT (NEW 5-DIGIT ZIP CODE)
Commonly used Postal Codes for Vietnam (Hanoi City)
VIETNAM POST (VNPOST) TRACKING
HOW DO I TRACK A PACKAGE FROM VIETNAM?
Whenever you choose to make a parcel for delivery to any place you want, after paying for the service, you will get an identification number which you will be able to use to gain total access to the information of your package or document, whether you send it or expect one to arrive at your home address; this function can be accessed through the tracking number Vietnam Post option on the official website. Using this option will keep you updated on the current condition of your packages, such as their position, estimated time of arrival to their destination, and any extra information you need to know to receive it.
You must always keep your Vietnam Post track and trace number at hand, in case there is a problem with the customs area, which operates differently depending on the continent or country of destination, including a tax that must be paid to let your parcel get inside the country and be delivered straight to the destination address.
WHERE DOES VNPOST DELIVER?
Vietnam Post does not only deliver their parcels and documents inside the country, to the front of your house, this delivery company also makes deliveries to the rest of the world. Even when the deliveries are made outside of Vietnam, there are established routes of delivery when shipping a parcel, so, if you wonder how to track any package you sent to another part of the world, you only need your Vietnam Post tracking number, received immediately after requesting the service of the courier.
Among the countries available to receive packages or documents from Vietnam Post, there is the United States, a destination that is one of the most used by this platform.
HOW LONG DOES MAIL TAKE FROM VIETNAM TO THE US?
The estimated time for the delivery for the United States, from any part of Vietnam, requesting a VNPT order ranges from 3 to 5 business days, however, the exact time of arrival can be seen through the Vietnam Post track and trace option on the website, or contact the call centers for support.
There is a special, though more expensive delivery service called EMS, which stands for Express Mail Service, which ensures that your package or document gets dispatched to the destination address the next business day, after getting your Vietnam Post track package identification number. This is made possible through a special courier assigned to pick up the parcel before the end of the day and transport it directly to the company's airport hangar, which takes flight overnight to the country of destination, making the delivery possible to dispatch it at the destination address within 24 hours after the service is paid.
WHAT ARE VIETNAM POST SHIPPING COSTS?
Vietnam Post website provides the potential customer with a cost calculator for a package or document, providing the information of its weight and dimensions, which gives the client an estimated delivery cost, plus the estimated time of arrival to its destination.
The average Vietnam Post shipping fees for a document to another city inside of Vietnam is 120.000 dongs, translating to roughly 5 dollars. If the document is being sent outside of the country, the cost will vary depending on the area of the destination, increasing or lowering the delivery average price, costing an average of 240.000 dongs, or 10 dollars.
A Vietnam Post parcel or box cost will depend on two important factors, the weight, and dimensions of the box. This information must be entered on the cost calculator, giving the client an estimated cost and time of arrival to its destination. The minimum cost of a box is 360.000 dongs or 15 dollars for the first kilogram of weight to send to any city of Vietnam. The average cost of a box weighing only 1 kilogram sent to another country is 470.000 dongs or 20 dollars.
The shipping of any parcel from Vietnam Post comes with an added insurance which can be accepted or not by the client, ensuring retribution of the merchandise value, in case there is an accident or loss.
HOW DO I CONTACT VIETNAM POST?
Just in case you need to get any information, an answer for your doubts or suggestions, there are many channels of communication to contact the Vietnam Post, be it by phone, email, or by going to your nearby agency. Any form of contact you make with the company will ensure a fast and efficient answer to any question you have, regarding fees, importation taxes, or a parcel's tracking number.
Likewise, the support call center and web center will contact you through the information you provided at the moment of making a carrier request, notifying you of any problem or status change of your Vietnam Post tracking parcel service, to get any extra information requested by the customs authorities or modify the given address of destination in case the courier has trouble finding the recipient of your mail.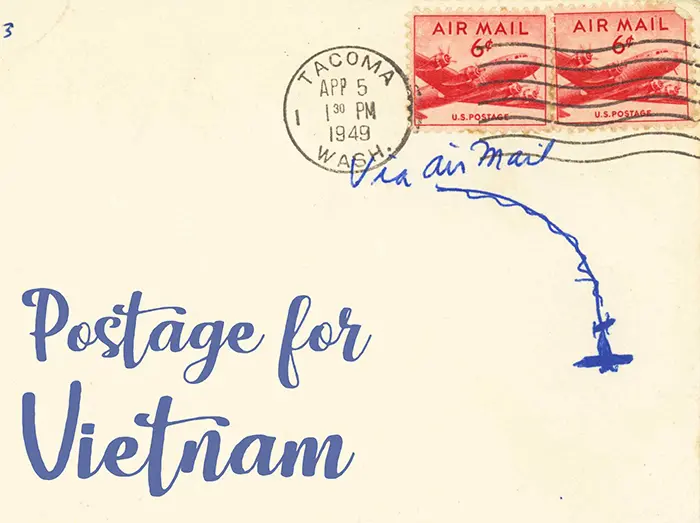 HERE ARE VIETNAM POST TRACKING STATUS
| | |
| --- | --- |
| | |
| Item Returned from Customs | Package delayed due to some issues during the customs clearance |
| | A delivery appointment is scheduled |
| | Recipient not available at the given address |
| | Package departed from the facility |
| | Shipment delivered successfully |
| Unsuccessful attemp at delivering the object | The delivery of the package failed due to some reason. Courier usually leaves a notice and will try to deliver again |
| Available for withdrawal in PO Box | The package arrived at a pickup point near you and is available for pickup |
| Delivery Status, Address not clear | Package not delivered due to incorrect recipient address |
| Disponibile per il ritiro presso l'Ufficio Postale a partire dal | The package arrived at a pickup point near you and is available for pickup |
| Absence. Attempted delivery. | Recipient not available at the given address |
| The delivery of the shipment item has been delayed with one workday | Package delayed due to some unforeseen reasons |
| | Customs clearance completed |
| | Package handed over to customs for clearance |
| Addressee not available at time of delivery | Recipient not available at the given address |
| You can collect your item at Pos Outlet as stated in the Call Card | The package arrived at a pickup point near you and is available for pickup |
| | Shipment delivered successfully |
| Unsuccessful item delivery attempt (Inb), unknown | The delivery of the package failed due to some reason. Courier usually leaves a notice and will try to deliver again |
| Your item has been delivered to an agent at | Shipment delivered successfully |
| Item returned from local Customs office | Customs clearance completed |
| | The package arrived at a pickup point near you and is available for pickup |
| Your item has been delivered to the mail room | Shipment delivered successfully |
| Letter Carrier enroute to delivery | The package is out for delivery |
| | The package is out for delivery |
| Delivery Status, No Recipient | Recipient not available at the given address |
| The item accepted from the sender | Shipment accepted by the carrier |
| Allotted for delivery at Customer address | The package is out for delivery |
| Item held by local Customs office | Package delayed due to some issues during the customs clearance |
| Item available at pickup point | The package arrived at a pickup point near you and is available for pickup |
| | Package handed over to customs for clearance |
| Awaiting for declarative procedures | Package delayed due to some issues during the customs clearance |
| Receive item from customer | Shipment accepted by the carrier |
| Unsuccessful delivery, No delivery service for this product to specified delivery point | The delivery of the package failed due to some reason. Courier usually leaves a notice and will try to deliver again |
| | Business is closed at the time of delivery |
| Depart for delivery cancelled | Delivery of the package failed due to some shipping exception |
| | Shipment arrived at a hub or sorting center |
| Processed in the destination country | International shipment arrived at the destination country/region |
| Consignment poste restante in post office and ready for collection | The package arrived at a pickup point near you and is available for pickup |
| | Customs clearance completed |
| Area with delivery subject to differentiated term | Delivery of the package failed due to some shipping exception |
| | Package handed over to customs for clearance |
| Item for Customs examination | Package handed over to customs for clearance |
| | Recipient not available at the given address |
| Ready for customs clearacne | Package handed over to customs for clearance |
| Delivery attempt unsuccessful | The delivery of the package failed due to some reason. Courier usually leaves a notice and will try to deliver again |
| Your item was delivered to a parcel locker | Shipment delivered successfully |
| | The package is out for delivery |
| | Package departed from the facility |
| | Customs clearance completed |
| Due to its size or weight | Delivery of the package failed due to some shipping exception |
| | Shipment delivered successfully |
| Distribution to PO Box in Progress | The package is out for delivery |
| The delivery has arrived at the customs warehouse | Package handed over to customs for clearance |
| | The package is out for delivery |
| Allocated to delivery staff | The package is out for delivery |
| | Package handed over to customs for clearance |
| Your item is ready for collection at Window Delivery counter | The package arrived at a pickup point near you and is available for pickup |
| | Package departed from the facility |
| | Shipment delivered successfully |
| | Delivery of the package failed due to some shipping exception |
| | The package arrived at a pickup point near you and is available for pickup |
| Delivery, Delivery to the addressee | Shipment delivered successfully |
| | Package not delivered due to incorrect recipient address |
| The shipment item has been delivered with Power Of Attorney | Shipment delivered successfully |
| A second SMS was sent to the addressee | The delivery of the package failed due to some reason. Courier usually leaves a notice and will try to deliver again |
| | Package handed over to customs for clearance |
| | Package departed from the facility |
| The import of the item was not authorized | Delivery of the package failed due to some shipping exception |
| | Delivery of the package failed due to some shipping exception |
| | The return package has been successfully received by the sender |
| Czech Post does not display information for this consignment type | Delivery of the package failed due to some shipping exception |
| A notice was left for the addressee | Recipient not available at the given address |
| | Package not delivered due to incorrect recipient address |
| Record item reason for retention by customs | Package handed over to customs for clearance |
| Receive item at office of exchange | Shipment accepted by the carrier |
| | Shipment forwarded to a different delivery address |
| Insert item into domestic bag | Package departed from the facility |
| Delivery unsuccessful, Delivery Advice issued | The delivery of the package failed due to some reason. Courier usually leaves a notice and will try to deliver again |
| Consignment dispatch out from Transit Office | Package departed from the facility |
| | Customs clearance completed |
| | Package handed over to customs for clearance |
| | Package handed over to customs for clearance |
| A second notice was sent to the addressee for the items' release | Package delayed due to some issues during the customs clearance |
| Hold item at point of delivery | Package delayed due to some unforeseen reasons |
| Delivery status not updated | Delivery of the package failed due to some shipping exception |
| Object returned to Correios | Delivery of the package failed due to some shipping exception |
| Delivered, Postal service center | Shipment delivered successfully |
| | Package departed from the facility |
| | Delivery of the package failed due to some shipping exception |
| | Delivery of the package failed due to some shipping exception |
| Unable to notify the recipient via SMS | Delivery of the package failed due to some shipping exception |
| Receive item at delivery office | International shipment arrived at the destination country/region |
| Depart for delivery to addressee | The package is out for delivery |
| Handovered to delivery agent | Package departed from the facility |
| | Delivery of the package failed due to some shipping exception |
| Electronic Notification Received | The carrier received a request from the shipper and is about to pick up the shipment |
| | Package handed over to customs for clearance |
| | Package departed from the facility |
| Your item was delivered at the front door or porch | Shipment delivered successfully |
| | Customs clearance completed |
| Delivery Status, Smart Parcel Locker | The package is out for delivery |
| | Shipment accepted by the carrier |
| | Shipment delivered successfully |
| Envoyer vers le prochain point de traitement | Package departed from the facility |
| | The package is out for delivery |
| | Package not delivered due to incorrect recipient address |
| | Package not delivered due to incorrect recipient address |
| | Shipment accepted by the carrier |
| Unable to deliver item, problem with address | Package not delivered due to incorrect recipient address |
| The item is currently in transit to the destination | Package departed from the facility |
| Delivery attempt made, but the recipient was not reached. A notice of arrival was left for the recipient. | Recipient not available at the given address |
| Delivery has been dispatched from change of destination office | Package departed from the facility |
| | The delivery of the package failed due to some reason. Courier usually leaves a notice and will try to deliver again |
| Handover item to delivery agent | Package departed from the facility |
| | Delivery of the package failed due to some shipping exception |
| | The package arrived at a pickup point near you and is available for pickup |
| | Package delayed due to some issues during the customs clearance |
| Delivery is available to be picked up at the Post Office | The package arrived at a pickup point near you and is available for pickup |
| Your item has been delivered and is available at a PO Box | Shipment delivered successfully |
| | Package delivered to & signed by the customer |
| | The package is out for delivery |
| A second notice was left for the addressee | The delivery of the package failed due to some reason. Courier usually leaves a notice and will try to deliver again |
| | Package delayed due to some unforeseen reasons |
| International item has left originating country | Package departed from the facility |
| | The package is out for delivery |
| Unsuccessful delivery, Other, Attempted delivery today | The delivery of the package failed due to some reason. Courier usually leaves a notice and will try to deliver again |
| The package is delayed and will not be delivered by the expected delivery date | Package delayed due to some unforeseen reasons |
| The shipment item has been delivered to a service point | The package arrived at a pickup point near you and is available for pickup |
| Customer adviced to pickup mail | The package arrived at a pickup point near you and is available for pickup |
| | Delivery of the package failed due to some shipping exception |
| Item held at delivery depot | Package delayed due to some unforeseen reasons |
| Addressee cannot be located | Recipient not available at the given address |
| Unsuccessful delivery due to | The delivery of the package failed due to some reason. Courier usually leaves a notice and will try to deliver again |
| | Shipment delivered successfully |
| | The package is on its way back to the sender |
| Unsuccessful delivery, Addressee has P.O. Box | The delivery of the package failed due to some reason. Courier usually leaves a notice and will try to deliver again |
| Destinataire non joignable lors de la livraison | Recipient not available at the given address |
| Item released from customs | Customs clearance completed |
| | Shipment accepted by the carrier |
| Consignee address not correct | Package not delivered due to incorrect recipient address |
| Undergoing processing for delivery to addressee | Package departed from the facility |
| | Recipient not available at the given address |
| Delivered information notice | Recipient not available at the given address |
| | Package handed over to customs for clearance |
| Available for delivery, The shipment item has been delivered to a service point | The package arrived at a pickup point near you and is available for pickup |
| | The package arrived at a pickup point near you and is available for pickup |
| Receive item at sorting centre | Shipment arrived at a hub or sorting center |
| | Shipment delivered successfully |
| | Package handed over to customs for clearance |
| The addresse was not home | Recipient not available at the given address |
| Customs duties must be paid before we can deliver your goods | The package being held due to pending payment from the customer's end |
| | Package departed from the facility |
| Enroute to delivery office | Package departed from the facility |
| Your item was delivered to the front desk or reception | Shipment delivered successfully |
| | Package delayed due to some issues during the customs clearance |
| | The delivery of the package failed due to some reason. Courier usually leaves a notice and will try to deliver again |
| | Package departed from the facility |
| Processing document by Customs | Package handed over to customs for clearance |
| Delivery Status, Closed House | Recipient not available at the given address |
| | The package is out for delivery |
| The shipment has been delivered | Shipment delivered successfully |
| Delivery Status, Contact the recipient by phone | The customer is contacted before the final delivery |
| | Shipment delivered successfully |
| Back at parcel delivery centre after an unsuccessful delivery attempt. | The delivery of the package failed due to some reason. Courier usually leaves a notice and will try to deliver again |
| | Recipient not available at the given address |
| | Shipment arrived at a hub or sorting center |
| | The package arrived at a pickup point near you and is available for pickup |
| | The package arrived at a pickup point near you and is available for pickup |
| Unsuccessful item delivery attempt (Inb), Other | The delivery of the package failed due to some reason. Courier usually leaves a notice and will try to deliver again |
| Consignment successfully delivered | Shipment delivered successfully |
| Destinataire n'est pas disponible au moment de la livraison | Recipient not available at the given address |
| The item delivered to recipient | Shipment delivered successfully |
| | Package handed over to customs for clearance |
| | The package is out for delivery |
| Item is in delivery transportation | The package is out for delivery |
| | Package departed from the facility |
| The shipment item could not be delivered, Delivery was not possible | Package delayed due to some unforeseen reasons |
| The shipment has arrived at | Shipment arrived at a hub or sorting center |
| Delivery was not possible. The recipient will get a notification with information | Delivery of the package failed due to some shipping exception |
| Forsendelse udleveret i Pakkeautomat, SIGNED BY | Package delivered to and signed by the customer |
| | Shipment arrived at a hub or sorting center |
| Envoies retenus par le douane | Package handed over to customs for clearance |
| | Customs clearance completed |
| Item in office of exchange | Shipment arrived at a hub or sorting center |
| Item arrived to destination country. | International shipment arrived at the destination country/region |
| The shipment has been loaded for delivery. | The package is out for delivery |
| Awaiting customs inspection | Package handed over to customs for clearance |
| The shipment item has been delivered to the recipient | Shipment delivered successfully |
| | The delivery of the package failed due to some reason. Courier usually leaves a notice and will try to deliver again |
| | Package departed from the facility |
| Item Out for Physical Delivery | The package is out for delivery |
| | Shipment delivered successfully |
| | Package departed from the facility |
| Delivery to the destination international office | International shipment arrived at the destination country/region |
| Item Presented to Customs | Package handed over to customs for clearance |
| Item arrived in the destination country. | International shipment arrived at the destination country/region |
| | The return package has been successfully received by the sender |
| Unable to complete delivery | Delivery of the package failed due to some shipping exception |
| Unsuccessful delivery. We apologise that this item could not be delivered today | The delivery of the package failed due to some reason. Courier usually leaves a notice and will try to deliver again |
| Customs inspection concluded | Customs clearance completed |
| Letter notification has been sent to the recipients mailbox. | The customer is contacted before the final delivery |
| Record item customs information | Package delayed due to some issues during the customs clearance |
| | Package departed from the facility |
| Vaine tentative de livraison d'envoi | The delivery of the package failed due to some reason. Courier usually leaves a notice and will try to deliver again |
| | Package departed from the facility |
| | The package is out for delivery |
| Your item was delivered to an individual | Shipment delivered successfully |
| Transfer from office of exchange | Package departed from the facility |
| | Package departed from the facility |
| Registro de entrega exitosa | Shipment delivered successfully |
| With courier for delivery | The package is out for delivery |
| Item presented to import Customs | Package handed over to customs for clearance |
| | Customs clearance completed |
| The item was forwarded to the destination country | Package departed from the facility |
| Delivery at post office registered | Shipment delivered successfully |
| | Delivery of the package failed due to some shipping exception |
| Export of international mail | Package departed from the facility |
| | Package picked up by the customer |
| | Customs clearance completed |
| Item ready for pick up at a Post Office collection point | The package arrived at a pickup point near you and is available for pickup |
| Item returned from Customs | Customs clearance completed |
| | The delivery of the package failed due to some reason. Courier usually leaves a notice and will try to deliver again |
| | The package is on its way back to the sender |
| | Shipment arrived at a hub or sorting center |
| | Shipment delivered successfully |
| | Shipment arrived at a hub or sorting center |
| Item to be presented to local Customs office | Package handed over to customs for clearance |
| Reminder to Schedule Redelivery of your item | Delivery of the package failed due to some shipping exception |
| Arrived at the postal unit for delivery to addressee | The package is out for delivery |
| Delivery Status, GovernmentPublic Company closed | Business is closed at the time of delivery |
| | The delivery of the package failed due to some reason. Courier usually leaves a notice and will try to deliver again |
| | Package handed over to customs for clearance |
| Shipment item undergoing clearance process | Package handed over to customs for clearance |
| Handover to domestic sorting | Package departed from the facility |
| | The delivery of the package failed due to some reason. Courier usually leaves a notice and will try to deliver again |
| | The return package has been successfully received by the sender |
| Unsuccessful delivery, Postal service center | The delivery of the package failed due to some reason. Courier usually leaves a notice and will try to deliver again |
| Delivery Status, P.O. Box (Issue Notification) | The delivery of the package failed due to some reason. Courier usually leaves a notice and will try to deliver again |
| Registro de entrega no exitosa | The delivery of the package failed due to some reason. Courier usually leaves a notice and will try to deliver again |
| | The carrier received a request from the shipper and is about to pick up the shipment |
| | The delivery of the package failed due to some reason. Courier usually leaves a notice and will try to deliver again |